The Tire Rack Team conducted several annual Ride & Drive tests with one specific goal in mind...to evaluate whether or not winter / snow tires were capable of being installed on a vehicle's drive axle when Original Equipment All-Season tires were retained on the non-drive axle.
While it appears that common sense would dictate drivers would want all four tires on their vehicle to have the same traction and handling capabilities, the tradition of using winter / snow tires only on the vehicle's drive axle still lingers on. And while most drivers would agree that today's All-Season radials far exceed the capabilities of yesterday's bias rib tires when it comes to dry, wet and light snow traction, many don't realize that today's winter / snow tires have progressed even further to provide superior snow and ice traction compared to yesterday's bias ply winter lug tires.
In order to get a better understanding of the dry road handling of All-Season and winter / snow tires, and their ability to be mixed together, our most recent Ride & Drive for the newest members of The Tire Rack's sales, customer service and marketing teams compared Bridgestone's low profile winter tire, the Blizzak MZ-01, to their widely used Original Equipment High Performance All-Season tire, the Potenza RE92. We used 205/55R16 sized tires mounted on 16"x7.5" wheels fitted to three 2001 Lexus IS300 sport sedans.
Bridgestone Potenza RE92
The Potenza RE92 is a High Performance All-Season tire that is used as Original Equipment on a wide variety of sports coupes and sedans.
On the outside, the Potenza RE92 features a 5-rib block independent tread design to provide the biting edges necessary to enhance foul weather traction. On the inside, the Potenza RE92 features a rounded casing shape to provide predictable handling, and uses spiral-wrapped nylon to reinforce its twin steel belts to enhance handling and provide high speedhigh-speed durability while it helps maintain ride comfort. Depending on their size and anticipated application, Potenza RE92 Plus tires are S-, H-, or V-speed rated. The Potenza RE92 tires we used for this test were H-speed rated.
On the road, the Potenza RE92 has been praised for its good ride, low noise and responsive real world handling. On the track it was rated as responsive and predictable while providing good handling and holding the car right on its desired path (close to the cones) through the double lane change.
Bridgestone Blizzak MZ-01
The Bridgestone Blizzak MZ-01 tires were developed to allow drivers of sports coupes and sedans (which come from the factory equipped with low profile tires mounted on the large diameter alloy wheels) to maintain their vehicle's sporty appearance while providing enhanced snow and ice traction.
The Blizzak MZ-01 features a directional tread design split by a wide circumferential center groove to help maintain good traction on wet and slush-covered roads while its zigzag sipes and independent tread blocks provide the edges to help bite through snow. It also features Bridgestone's Link Multicell Compound which is glass fiber reinforced to enhance vehicle stability on dry roads while helping to disperse water to reduce the risk of slipping on the thin surface film of water that makes ice so dangerous. This allows the Blizzak MZ-01 winter radial to approach the traction provided by a studded tire on ice...without the use of studs.
On the road, the Blizzak MZ-01 provided good ride and noise qualities, but offered less steering response than the Potenza RE92. On the track, the Blizzak MZ-01 winter / snow tires provided predictable handling, but when driven at the same speeds as the Potenza RE92, they required more steering input than the Potenza RE92s and were not able to hold the car close to the cones that defined the lanes of our double lane change.
Bridgestone Potenza RE92 (Front) and Blizzak MZ-01 (Rear) Combination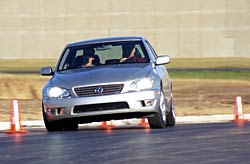 On the track at slow speeds (well below either of the tires' limits), the All-Season Potenza RE92 and Blizzak MZ-01 winter tire combination provided what felt like normal handling. But as the test speeds increased, the only conditions in which this combination felt acceptable for were straight linestraight-line acceleration and braking. We found that when driven anywhere near their limit (through our 40-45 mph double lane change), the winter / snow tires reached their handling and traction limits before the All-Season tires, allowing our rear-wheel drive Lexus IS300 to oversteer and fishtail uncomfortably.
While our evaluation conclusively showed why matching tires is desirable to maintain the vehicle's handling balance when it's required to be pushed to its limit, it's important to remember that our team members had the benefit of knowing the test course and could not be "surprised" into making the mistakes that any driver might make during a real emergency situation on the road. It's also important to realize that the difficulty of controlling a vehicle increases as the speed climbs, so what we felt on our test track at 40 mph is multiplied when driving on the highway at 60 mph.
NOTE: If we could have added a few inches of snow over a layer of ice to this track evaluation, the test vehicle's handling traits would be reversed. The tires that grip better on dry pavement would slip in the snow, and the tires that slip on dry pavement would provide better grip in the snow. Therefore the handling characteristics of our rear-wheel drive test vehicle on dry and wet roads (oversteer) vs. snow-covered roads (understeer) would result in a vehicle that would be difficult to control and drive and would feel as though it had a "split personality" at the limit in all weather conditions.